See even more testimonials on our Therapeutic Benefits page.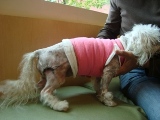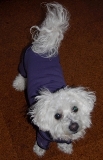 Quote from Jim Savino of Nike
Our dog, Lucy, was badly injured in a dog attack. She had multiple wounds all over her body. After release from the veterinary hospital, she needed to be protected from her own licking and chewing without spending weeks in an uncomfortable e-collar/cone. So we ordered a custom BodyShirt from DogGoneChic at the recommendation of our veterinarian. It covered her horrifying looking wounds and allowed her to heal in comfort. It's great to know that the special fabric used is totally breathable and wickable; and actually promotes healing!
In the past Lucy did not like wearing garments, but with her new BodyShirt, she absolutely loves it and appears very comfortable in it.
Thank you, DogGoneChic, for a wonderful product. It not only protects Lucy and keeps her comfortable, but she also looks great in her purple BodyShirt!
Jim Savino
Nike


WESTMINISTER DOG BOGART WEARS BODYSHIRT®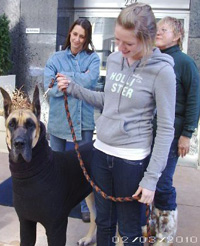 Both the BodyShirt® & Snood are fantastic!!! Thank you for your Wonderful Products and Custom Service par Excellence!!! -Dr. Nancy Schycker-Bailey
August 26, 2009
Tricia Christensen
DogGoneChic
3021 NE 72nd Drive #9-525
Vancouver, WA 98661
Dear Tricia,
This letter is in regards to your "DogGoneChic" BodyShirt that we purchased from your company for our dog, Lady. She has been dealing with extreme allergies for the past three years and it has been quite the struggle to get her allergies under control. She is constantly licking, particularly her paws. When Dr. Randall at the Animal Allergy Clinic told me about your product, I was a bit skeptical, but agreed to give it a try. At best I thought she might not be able to get to the areas the jacket covered.
After putting on the BodyShirt I noticed her licking decreased significantly. Even though Lady's paws were exposed, she almost entirely quit licking them as well. Needless to say I have been pleasantly surprised and very pleased with the results. She seems much more calm and secure and the BodyShirt also makes for a fine conversation piece.
As a business owner I appreciate products that perform as they are advertised to do. Your "DogGoneChic" BodyShirt definitely performed. Since it has had such a significant benefit for our dog, I wanted to personally write to you and thank you for such a wonderful product. I am happy to recommend your product to anyone and wish you and your company great success as I believe it can benefit so many others.
Sincerely,
Phillip R. Brewer
President
Alpha Environmental Services, Inc.
Hi Tricia,
Just so you know, everyone else in the family was skeptical when I placed an order for Millie's "therapy coat" as my husband jokingly calls it. We ordered The BodyShirt for aging Millie, who I really thought was on her last legs back in December.
This is a dog who scratched herself relentlessly from the earliest age, who chewed holes all over her body, who has been treated in vain with specially-brewed allergy vaccines, prednisone, cyclosporine and even cortisone shots (which may have contributed to her diabetes we're told)....we have done everything just to bring her some mild relief over the years. Nothing worked.
Even at nearly 14 Millie continued to scratch all the hair off the area behind her neck--sometimes in response to just being petted or getting her vetsulin shot. I guess, I too, was a little bit wary about a "BodyShirt" bringing her relief after all of the expensive but failed alternatives we've tried.
Well, the first day or so with her new BodyShirt, Millie still scratched a little and again, we thought, well even if she gets a few days of comfort out of it, that's great. But then something amazing happened. Millie's scratching and biting tapered off over a week or two and is now practically non-existent.
Gone are the days of listening to her bang around hitting things as she scratched violently, or coming home to find a blood trail where she chewed her tail or her leg until it was raw. I don't quite understand what The BodyShirt does, but it has been life-changing for a sweet old dog who is probably in her last months of life. We cannot thank you enough. Your product has brought relief to all of us!
Sincerely,
Cyndee Lord
p.s. I'm sending a picture of Millie out in the DC snow about 10 days ago--she chewed the sleeves in the first days, but not since!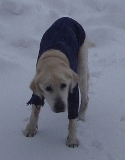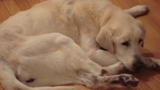 Running A Tight Whip
No dog can outrun Ribsy and Mirabel at the park. It's simply not possible. When you've got a voluminous chest and legs that go forever and a sleek aerodynamic profile, you admittedly possess a genetic advantage in the speed department. So what's a uniquely shaped, supremely athletic dog supposed to wear when on the field, in wet or chilly weather, that will keep him warm but won't slow him down?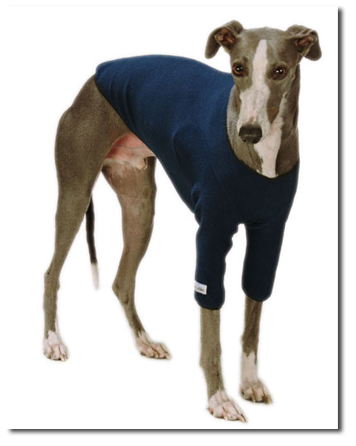 Enter the BodyShirt™ from DogGoneChic. Perfect for layering, this fur-hugging piece is stretchy, reversible, and waterproof. Your whippet will be non-shivery, comfortable, and best of all, unhindered. So it can do what it's born to do - outrun all the other dogs out there.
And no, it's not silly looking. Besides its obvious functionality, this shirt is quite fashionable. Ribsy thinks he'll get lots of admiring looks from the lady dogs in this.
by WhippetSnippets.com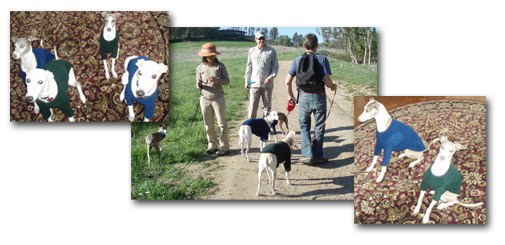 We all LOVE our doggies BodyShirts!
The Whippets, Chamois and Chloe love their BodyShirts. Chloe wants to wear hers all the time and this is the first time I've ever put ANYTHING on Chamois that he would wear without a lot of complaining (plaka-plaka-plaka)... :)

My sister's I.G.'s also love their BodyShirts and she tells me they wear them all the time. They are so proud when they have them on that they immediately start "prancing" as IG's like to do.

Thanks again for all the time and effort that went into making them. It was a labor of love! Attached are the best 3 photos I could get...
Joni Finkle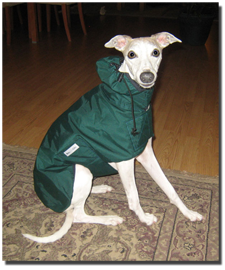 Received the sportswear today. They are gorgeous..and fit perfectly, too.
Keiko Pitter
We love love love the BodyShirt...all our friends are jealous (but we give them your web site). Let us know if you come up with other clothing too. We love the BodyShirt because it is sexy, but it is also perfect for around the house in the winter... under their heavy coats for outside and for use on warmer days...and I could go on..... Katherine M.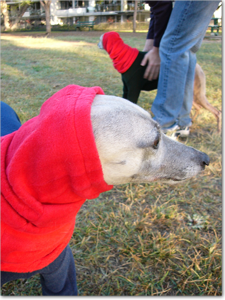 From Steve Minon and his dogs, Skippy and Bingo:
"Australia loves DogGoneChic! They (the DogGoneChic® apparel) arrived and they're a huge success. Viva haute couture le Whippet Australia! Or something like that."

The DogGoneChic® outfits fit my whippet, Neo, like a glove and he loves them too! He looks sooooo chic and best of all he does not wake me in the middle of the night to steal the covers! Thanks, Nidia
Thanks for all the coats. The RainGear is the right colour and size for our bitch. I have a trial tomorrow and they going to wear your BodyShirts; they love them.
Thanks for your help!
John and Jane Bunker
Australia
The Snoods fit great and have been keeping the dogs warm around the neck since they arrived.
Thank you again.
Allen Cheifetz
Jackson absolutely LOVES his BodyShirt. He hasn't taken it off yet. He's never been that way - he usually tolerates/despises them. I really think it's the stretchy fabric - he feels like he can move with it and he is soooo cute. Thanks again so much.
T.M.
We received the DogGoneChic BodyShirt. It's working great, he really likes it. Thanks again.
Tom
My Belgian Sheep Dog has never been able to mingle with my Border Collie. We've made progress, but in the confines of the house it is still a problem. My grumpy BC grumbles when they are close, and the BSD goes on attack. They've had a barrier their entire lives. Started w/ a DogGoneChic BodyShirt on my BSD a few weeks ago and now they are mingling, passing in the hallway, etc. I am astounded.
Joyce Biethan, Nationally Certified Pet Trainer